The Author
James Partridge
Our final blog for Face Equality Week 2020 is a history of the campaign for face equality. It is written by James Partridge, OBE, who sits on both the Advisory Board and Lived Experience Advisory Panel (LEAP) for the project.
James is the Director of Face Equality International, (2018) an alliance of NGOs and charities which campaign for 'face equality' and challenge disfigurement prejudice and discrimination. Previously, he was the Founder and Chief Executive of Changing Faces, the leading UK charity supporting and representing people with disfigurements. He launched the charity after the positive response to his book Changing Faces: The Challenge of Facial Disfigurement passing on lessons from his experience of severe facial burns at the age of 18.
This is a revised extract from James Partridge's book 'FACE IT: Facial Disfigurement and My Fight for Face Equality' to be published in June 2020.
The campaign for 'face equality', 2008-2020: origins and highlights
Back into history: the first tiny steps in campaigning
I set up the charity, Changing Faces in May 1992 to support people with facial disfigurements of any kind and their families, to pioneer and advocate for new psycho-social help and, eventually, to challenge negative public attitudes.
In the early years, our first duty had to be to provide support and empowerment for the many people who made contact with the charity, 'changing lives' as we called it. It wasn't until 2002 that we could start to develop our 'changing minds' work in earnest. Which isn't to say that we did no 'campaigning' in the first ten years. Our media coverage to raise awareness of the issues was consistent, and we often gained attention from mainstream broadcasters too. And in 1995, we had a real breakthrough when, after much lobbying, the Disability Discrimination Act 1995 provided the first legal protection worldwide for people with 'severe disfigurements' against discrimination at work or in the wider society.
Then, out of the blue in the winter of 2001-02, with brilliant pro bono support of an advertising agency, WCRS, we had the chance to invent a really eye-catching public campaign. A set of four posters were created and then displayed throughout the London Underground system, on billboards across the country and in magazines too.
The posters had strong positive 'twists' in their texts — like the one of David Bird who has a complex birthmark over one eye which says: "Hello. Nice to meet you. How are you? Now you try it." — that were designed to unblock the excruciating 'communication channel' between people with disfigurements and those they meet in the first moments of social encounters. The acclaim for the campaign was huge —WCRS won a national award — but we knew that we had to find a unifying theme to lift our 'campaigning' off the ground. And that came in an unexpected way.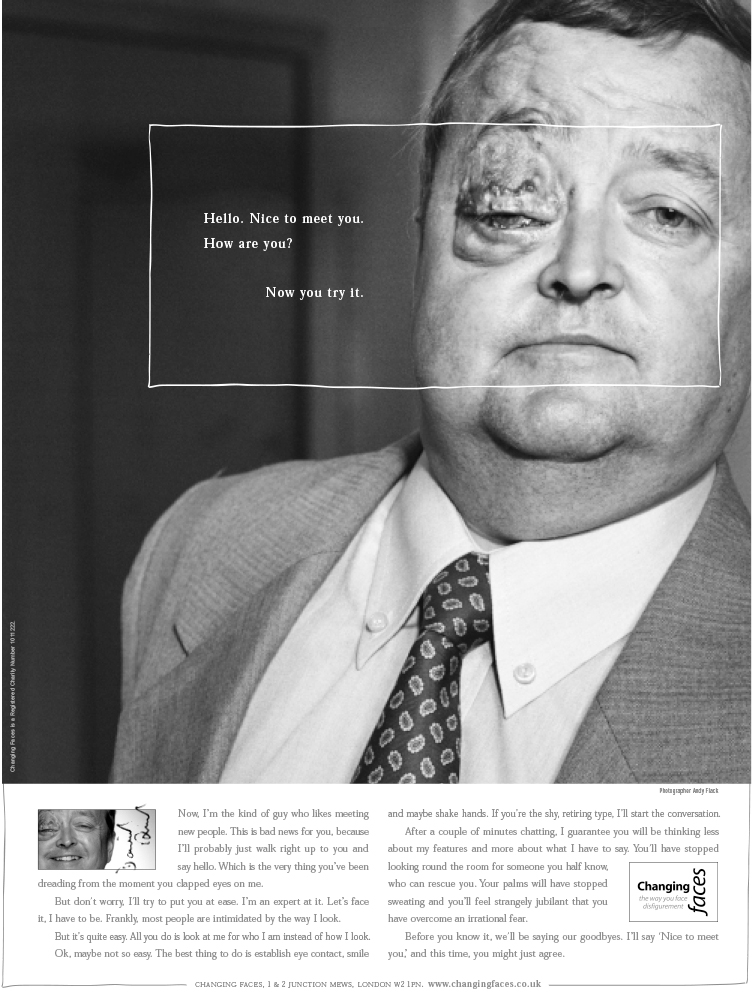 In October 2004, a major exhibition at the Science Museum in London called 'Future Face' brought together a very eclectic array of artefacts, images and articles from pre-history looking right into the next millennium… and our posters were displayed too! I was invited to speak at a big debate at the Royal Geographical Society entitled 'Future Face?'. I was nervous as I handed my slides to the projectionist — who just happened to be a man with a very significant facial birthmark. Inevitably, we got into a conversation and he said he was interested in what I was going to say — and I gave him a preview… but not before he had told me that his jobs had always been 'behind the scenes'. It added spice to my short 10 minutes speech, the first time I'd ever suggested a campaign for 'face equality':
"While some may be thinking that we have come here tonight to eulogise about the coming age of designer faces and the market for them that might result if science rolls on relentlessly, I want to engage you in a different way… I will argue that our present cultural and social mind-set about faces is unhealthy and unjust to millions of people on the planet… 'Face-ism' is a new concept for a very old process — and challenging it would have huge benefits for our entire culture. We believe that we must start a campaign to create 'face equality' and if you think, I am barking, replace the word 'face' with 'race' as I am speaking…"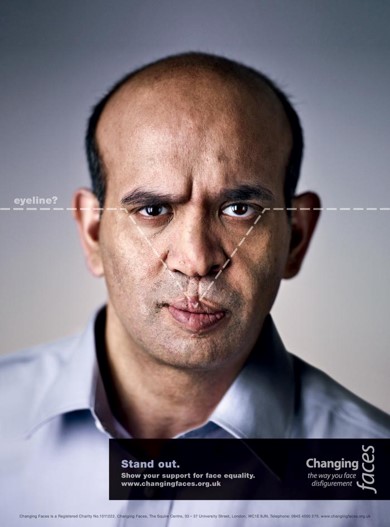 The launch of the campaign for face equality
The response I received that evening was positive but it took nearly four years before Changing Faces properly launched 'the campaign for face equality' in May 2008 with ambitious goals — to promote fair and equal treatment, to raise public awareness, knowledge, skills and confidence and to challenge negative attitudes towards people with facial disfigurements.
Why? Because every single day anyone with a facial disfigurement is vulnerable to unfairness. In Britain alone, that impacts on the lives of over half a million people who have distinctive faces because of birthmarks and congenital conditions, scarring after accidents, burns or cancer surgery, facial asymmetry or paralysis or the effects of a skin condition.
We knew this from the reports of our clients and supporters: they were fed up with the thoughtless prejudices and actions of individuals, professionals and private and public institutions — and, most starkly, in the imagery and words used in the media. We commissioned an independent survey of public attitudes, an Implicit Attitude Test (IAT), a method developed at Harvard University in the 1990s to measure 'unconscious bias' towards people based on their race, gender or sexuality. And the results were startling.
The IAT found that nine out of ten people had unconscious bias towards those who had a facial disfigurement, finding it difficult to associate positive attributes to them like being happy, successful or being fun to be with. That scale of bias was even larger than that revealed in the Harvard studies of racism in the 1990s.
We didn't gain much media coverage on the launch day but that didn't prevent leaders of like-minded organisations supporting the call for action such as:
The Cleft Lip and Palate Association (CLAPA) fully endorses Changing Faces' Face Equality Campaign. We know there are many, many people with clefts who find it difficult to relate to other people in both social and work situations as a result of looking – and sometimes sounding – different to others. We hope this campaign will increase awareness of facial difference and ensure that familiarity with appearance issues will lead to a far greater level of social acceptance. Gareth Davies, CEO
And, most pleasingly in light of the need to make this a human rights issue, Nicola Brewer, CEO, Equality and Human Rights Commission, said:
"Only the bravest organisations talk about subjects that most people would rather ignore. Changing Faces is one of those organisations. It does a remarkable job raising awareness of this important issue and challenges negative attitudes to facial disfigurement. We welcome this positive and inspirational campaign which shows that how you look should be nothing to do with what you can achieve."
The campaign had lifted off.
Highlights since 2008
In the years after the launch, Changing Faces tried to build up the campaign in Britain with a tiny team of staff and volunteer champions but as the world recession caused by the sub-prime credit crunch gathered pace, finding funding to sustain such efforts became harder and harder. But by 2019, the charity could point to many successes in challenging the media, schools, employers, lawyers, artists, film-makers, the cosmetics and fashion industry, advertisers, MPs and, of course, the public at large.
But it wasn't just a campaign in the UK. A charity in Taiwan, the Sunshine Social Welfare Foundation, decided in 2011 to make the campaign a major part of its efforts… and then in November 2018, I launched an international alliance, Face Equality International, to turn the campaign into a global movement.
That 2017 evidence gave Changing Faces an added impetus to mark our 25th anniversary: we decided to create the UK's first 'Face Equality Day' in May 2017. It was a very satisfying success: over 80,000 people wore out butterfly transfers on their face, we received big votes of support from politicians and opinion leaders, social media engagement went wild! We were on to the next level of campaigning…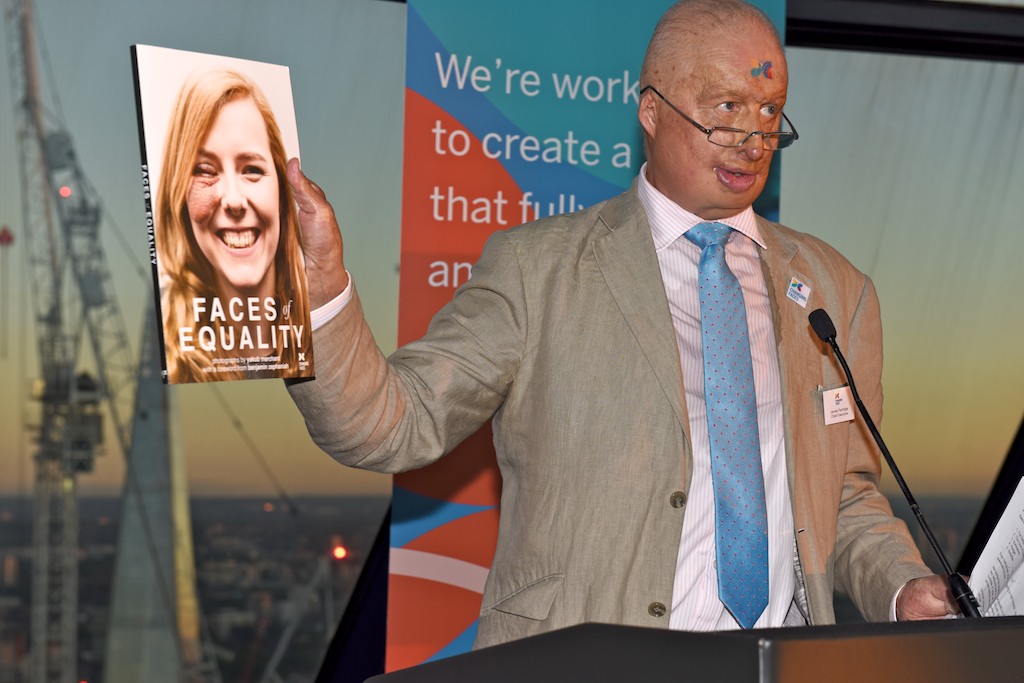 International Face Equality Week, 17-25th May 2020
How to develop the campaign internationally? In late 2018, I set up Face Equality International (FEI) to draw attention to the fact that disfigurement is a neglected global human rights issue. FEI is now an alliance of 35 NGOs/charities around the world that are supporting and representing people with many different disfigurements.
The first International Face Equality Week in May 2019 was a great start for the alliance in action: on social media, for example, the Phoenix Society for Burn Survivors reached 100,000 people on Facebook alone. In Taiwan, the Sunshine Foundation arranged an island tour which generated 258 media reports — but the biggest outcome was that 19 cities and counties pledged support for Face Equality and two, Tainan City and New Taipei City, have adopted measures to stop the practice of requiring a photo to accompany a CV/resume when hiring government employees.
I am thrilled by what is happening in our International Week this year… and especially by the authenticity of the voices in this film compiled from 30+ clips sent in from all over the world by our members' advocates and champions, and by our Selfie Challenge. Check out @FaceEqualityInt on social media platforms!
Face Equality in a post-Covid world
It will be crucial that Face Equality International holds strong to challenge the predicted threats to employment, rights and social connectedness as the world emerges from the ghastly Covid-19 pandemic. In particular, we need to make sure that people with facial disfigurements have the human rights in employment and the wider society that are afforded to others. More anon…
To order the book, go to: https://jamespartridge.wordpress.com/ordering-face-it-directly/